Rio Palisades Garden Walling
Rio Palisades
Rio is a collection of reconstituted stone paving, walling and accessories with attractive granite effect textures and inspiring contemporary colour options.
Rio Palisades walling option are welcome additions to our successful Rio range, enabling you to add a third dimension to Rio garden and driveway paving. Available in the same three Rio colours; Sand, Shell and Storm, and share the same attractive textures, they are versatile in use and can be used to form low planters and retaining walls, or simply used as decorative standing stones.
Purchase through our network of UK stockists, details of which can be found using our online stockist search tool.
The Rio range includes, smooth and textured garden paving, edging and garden palisades.
Rio Palisades is one of our reconstituted palisades products within our walling range.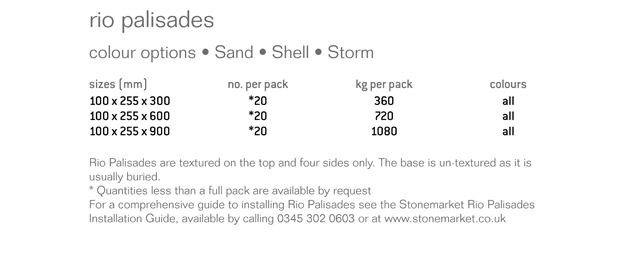 Back to top