Vintage Stone Raven Garden Setts
Vintage Stone Raven Setts
Vintage Stone is an ethically sourced natural stone paving range, specifically processed to deliver the worn texture and smooth feel of reclaimed flagstones.
Vintage Stone Raven Setts perfectly coordinate with Vintage Stone Raven Garden Paving or create a beautiful stand alone feature. They are an unusual quartzitic sandstone which responds particularly well to our special vintage processing. Raven's dark brown to black shades with lighter markings of brown and dusky pink, make it the perfect backdrop for traditional planting schemes.
Our Vintage Stone setts are available in a 210x140mm size or a 4 size Project Pack - all 25-40mm in thickness. Purchase through our network of UK stockists, details of which can be found using our online stockist search tool.
Vintage Stone Raven Setts is one of our pathway setts products within our paving and pathways range.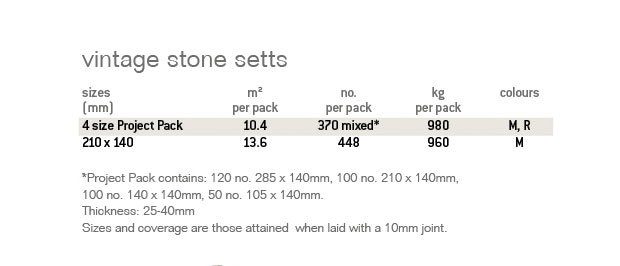 Back to top